Pictures
Purchase now
You can buy your FISCON Bluetooth handsfree directly from us.
Use our comprehensive Service offers which are available for all customers who bought directly at our shop.
Price:
399.00€ incl. 19% tax
335.29€ excl. 19% tax
Customers outside European Union don´t need to pay German tax.


FISCON Pro for BMW Navigation CIC
Description of Functionality
With a FISCON Pro Bluetooth handsfree, your BMW Navigation CIC allows for these functions:
Vehicle Integration
Display and operation from the center color screen.
Menu-driven operation
Establish, accept and end calls. Mute, regulate volume and numerous setup functions. Everything is operable with the existing buttons of the vehicle
Voice output through the vehicle speakers. With distinguished sound quality, no installation of additional speakers is necessary.
Uses the amplifier of the car for speech and music. OEM soundsystems are supported.
Operation via the buttons on the multifunction steering wheel.
Usage of the ring-tone of the cellphone

*1

on the vehicle speakers.
All original functions of the vehicle remain unaffected.
Optional microphone available exactly matching to the OEM position in the dome light. Enables completely invisible installation.
Voice control of the phone functions in combination with the present BMW voice control system.
| | |
| --- | --- |
| *1 | If supported by the cellphone. |
Phone Functions
Synchronisation of the phonebook with names and numbers.

*1

Access to call lists, including dialed, accepted and missed connections.

*1

Shows incomming calls automatically with name synchronisation of the phonebook

*1

. Option to accept or decline a Call.
Up to 5 cellphones can be paired.
Digital sound processor with echo and noise depression.
Adjustable microphone amplification to optimize voice quality.
| | |
| --- | --- |
| *1 | If supported by the cellphone. |
Infotainment
A2DP audiostream via Bluetooth, for playing music stored on the cellphone and internet radio through the vehicle sound system.

*1

AVRCP controls the phone MP3 player with the buttons of the vehicle.

*1

Distinguished music quality due to fully digital data transfer.
| | |
| --- | --- |
| *1 | A2DP and AVRCP must be supported by the cellphone. Only for cars without CD changer, iPod and USB interface. |
Hardware, Installation, Maintenance
Coding at the BMW dealer is not required. The system makes the adjustement to the car fully automatic. No extra costs and garage visits.
Plug&Play Adapter based on fiber optics.
Easy electric installation. Just connect adapter and power supply.
Removes easily with no damage to the vehicle.
Option for software updates.
Updates for phone compatibility can be installed via bluetooth with a Windows Notebook or Android Device.
Standby power consumption is under 0,1mA (<0,0012W) Watt at 12V.
---
Car Compatibility
FISCON Pro handsfree kits for BMW Navigation CIC are compatible with these vehicles:
BMW Models
1 Series - E81, E82, E87, E88
1 Series - F20

*1

3 Series - E90, E91, E92, E93
3 Series - F30, F31

*1

5 Series - E60, E61
5 Series - F07, F10, F11

*1

6 Series - E63, E64
6 Series - F12, F13

*1

7 Series - F01, F02, F03, F04

*1

X1 - E84
X3 - F25

*1

X5 - E70
X6 - E71
Z4 - E89
*1

Vehicles of the BMW F-Series require a special coding. Different to the E-Series this can´t be done automatically. Therefore a special coding tool is required. Without correct coding the handsfree does not work.

At Navigation Business (F-Series) from Modelyear 2014 it is possible that the radio does not has a fiber optic interface. In this case FISCON can be installed only in combination with a replacement of the radio. If other components using fiber optics, like CD-changer, iPod interface, HUD-display or a special soundsystem are already installed in the car, the radio is suitable. If you have doubts please verify which radio you have by making a sight check of the connectors or ask your BMW dealer.

Not suitable for Navigation Professional NBT from 2013. For that system, please use our product for Navigiation Professional NBT.
The product comes in different versions depending on the modelyear. Please choose the right version in our Shop. At retrofitted radios the production date of the radio is relevant, not the modelyear of the vehicle.
At cars from modelyear 2011 a reduction of the data volume in 3 steps is possible for technical reason:
The 3rd number of a contact person is removed
The 2rd number of a contact person is removed
The name is cut to 8 characters
---
Recommended Accessory
With these products you can ease the installation:
---
Display CIC Business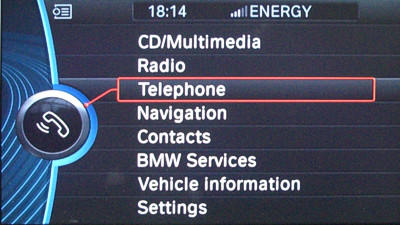 CIC Main Menu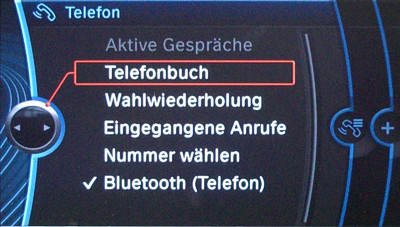 Phone Functions

Phonebook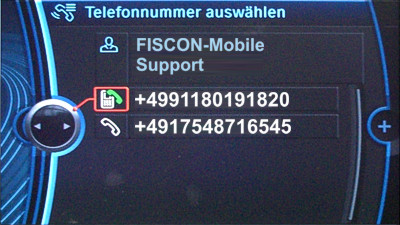 Select Subnumber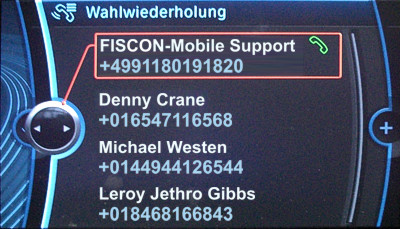 Dialled Numbers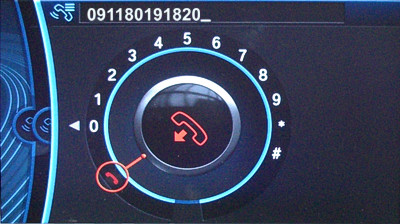 Enter a Number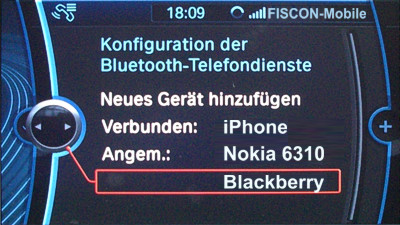 Select a connected Phone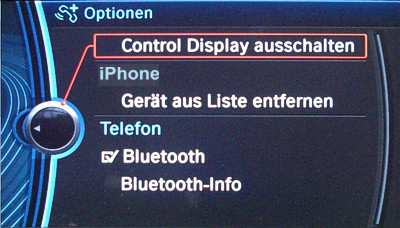 Remove a Phone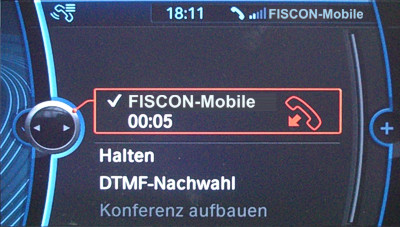 Functions during a Call

Accept incomming Call