Photos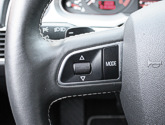 Operation from the
Multifunction Steering Wheel


Compact housing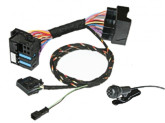 Plug&Play Adapter
Important note:
This page contains old content. Please click here to continue with the current version.
FISCON Basic
Even without a navigation system, you don't need to miss the comfortable features of a FISCON Bluetooth handsfree. The call lists, phonebook and incoming calls are all shown on the FIS screen in the tacho. The menus on the FIS screen can be controlled with the buttons of the multifunction steering wheel.
FISCON Basic Handsfree kits are available or under development for these cars:
| | |
| --- | --- |
| | Available |
| | Under development |
Note to soon coming products:
If you are interested in one of these products, we would be glad to inform you by eMail about their availability. Please register at our Infoservice without making any commitments and you will get informations to FISCON products for your car in a early and convenient way.
Displays Tacho Screen
Audi A4 (8K), A5, A6 (4F), Q7,
and A8 (4E)
Audi A3 8P, A4 8E,
A4 8H and TT 8J





Volkswagen / Seat / Skoda
white Display

Volkswagen / Seat
red Display





Mercedes
e.g. E-Klasse


Audi A3 8P, A4 8E,
A4 8H and TT 8J


Volkswagen Touareg GP (Facelift)